Cheers to Novelty: Ready for Summer Giveaway Party: La Barra Dulce
:

Hey everyone!
We're back continuing our awesome ready for summer giveaway with Regina from Guatemala!
La Barra Dulce specializes in custom printables and DIY party kits-- perfect for this upcoming summer doncha think? :)
What got you started on designing party kit sets?
I'm a Guatemalan Graphic and Industrial designer so when my first niece was born my sister asked me to help her organize her first birthday so I designed everything and organized the whole party, then by word of mouth I started selling custom personal cards and invitations to friends thru a small blog, then party supplies and now custom cakes and sweets, and everything for your party.
I work full time in my party supplies and cake bussines, I am my own boss.
(Being your own boss full time sounds awesome!)
Here are some of my favorite items!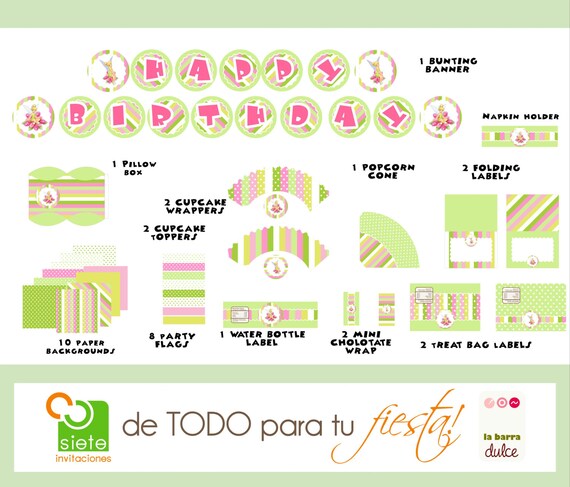 This
Tinkerbell party kit
really caught my eye for the summer. It's green and pink-- makes me think of watermelons! You get everything from cupcake wrappers to party flags. Neat right?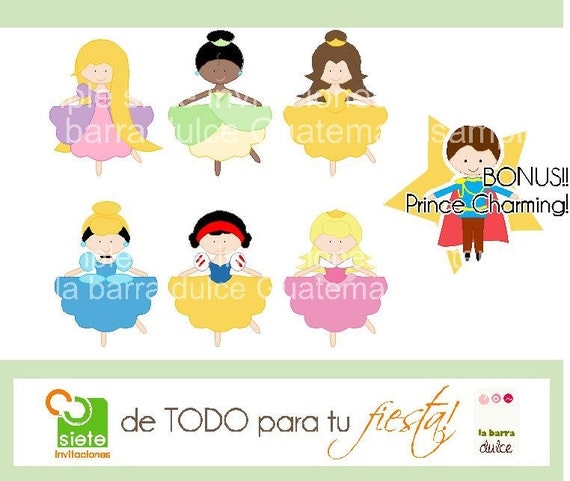 You can never get too old for Disney princesses... at least I don't think so. These
princess ballerinas
are so sweet and you get a bonus prince charming as well! Princess Tiana and Rapunsel are extra cute. Which Disney princess is your favorite? :)
Favorite part about running your own business?
I've been selling online in my webpage and Facebook pages since 2004, mainly in my country Guatemala and in Central America. In 2010 I discovered Etsy and 1 year later I started my Etsy shop "la barra dulce" (spanish for "The candy bar") selling printables and washi tapes, now I only sell DIY Party Printables kits with clients from all over: Australia, Brasil, Spain or Canada.
So I'm moving onto the giveaway so I can share your options as our winner! Regine from La Barra Dulce is giving away 1 $20 DIY party kit printable with custom banner text for the perfect party! Choose from an
Owl hoot
design,
Soccer party
in any color, or the
Mexican fiesta
. Winner chooses design and custom color and it will be a jpeg file sent to the winner's email.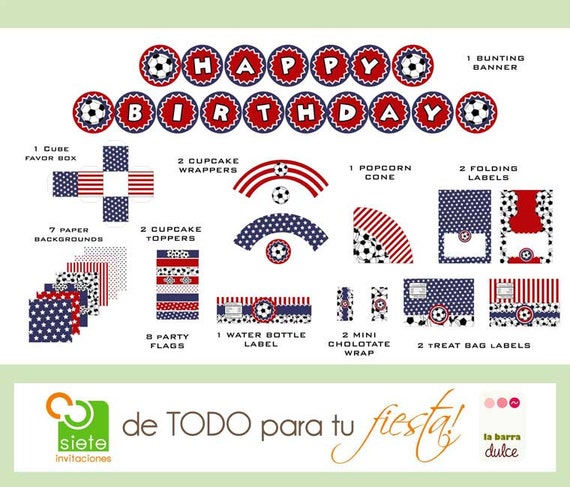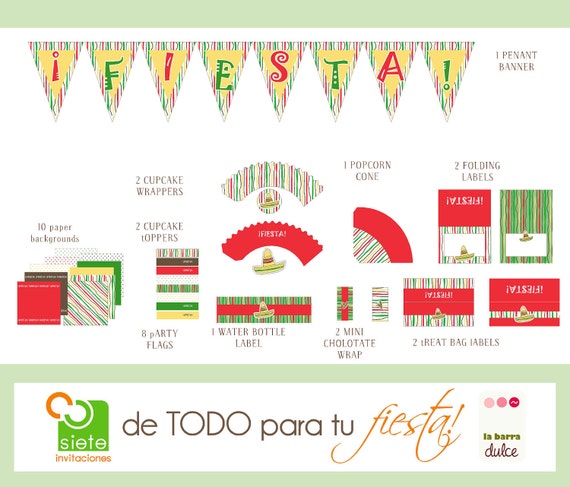 This Owl hoot party kit is my favorite out of 3 since I'm a huge owl fan!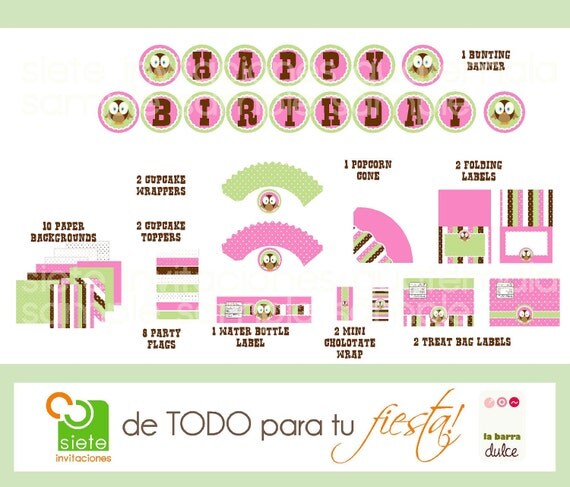 Connect with Regine and La Barra Dulce:
www.pinterest.com/labarradulce
www.facebook.com/deTODOparatusfiestas
www.sieteinvitaciones.blogspot.com
www.facebook.com/labarradulce
www.twitter.com/labarradulce
www.justwwgiveaways.blogspot.com
www.sieteinvitaciones.com
Now let's get to the giveaway!! Wee! Good Luck everyone!